If you want to sell your car quick yourself rather than to a dealer this can be a good option, especially if your car has great value.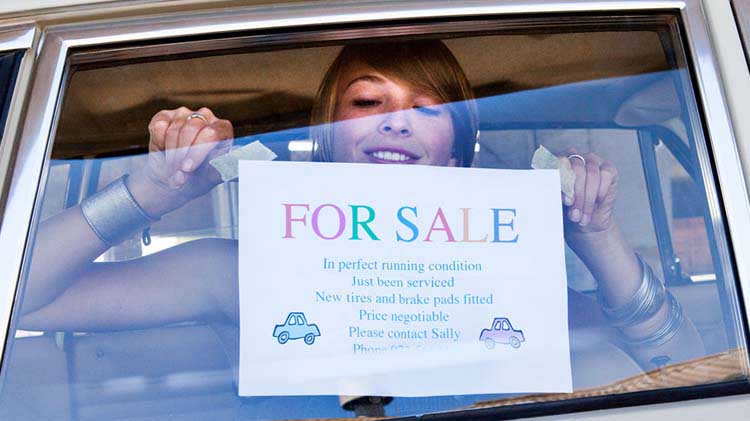 Selling your car yourself instead of to a dealer may seem scary, but it doesn't have to be. If you do your research, it might actually work better for you. This is especially true if the vehicle you plan to sell has great value. Here are some tips to help you through the process.
What documentation do I need if I want to sell my car quick?
One of the first and most important steps is to gather all the documents related to the car you are selling. These documents include:
Warranty information . If the vehicle is still under warranty, please notify the new buyer.
Sales receipt . When you generate a sales receipt, include:

the sale date
your name and the buyer's
the year, make and model of the car
the negotiated price

If the car is sold "as is" or if you provide a stipend for repairs.

Title . Depending on the regulations in your state, you may need to sign the title, transferring it to the buyer's name.
Regulations of the Department of Motor Vehicles . Depending on the state you live in, you may need an emissions test or an odometer disclosure statement.
How do I prepare my car for sale?
To get the best price for your car, follow these steps:
Finish the repairs . Maintaining small components — such as fluids, brakes, light bulbs, air in tires, cracks in the windshield wiper, dents, or scratches — can help you get more money for your vehicle. Be sure to save receipts for repairs to show buyers what work has been done.
Clean it up . While it may seem obvious, many marketers skip or partially follow this step. A clean, waxed, fresh-smelling car is more attractive to buyers. So pay attention to both the inside and the outside of the car. Clean the glove compartment and trunk. Clean all surfaces, especially the cup holders. Vacuum well and remember to remove all the stickers from the bumper, as well as the residue they leave behind.
How much should I ask if I want to sell my car quick?
This is one of the hardest parts of selling a used car. Most don't know where to start when it comes to determining prices. First, check out the free appraisal tools on the Internet. Compare the value of your vehicle as shown on various sites. Be realistic when evaluating the condition of your car. Here are some sites that can help you:
The bottom line is this: Be aware of the minimum amount you would accept for your car before you start negotiating with buyers.
How do I find buyers for my car?
Another difficult aspect of selling a car on the private market is contacting buyers. How do you spread the word that you are selling a vehicle? Keep in mind that there are services, such as CarMax , that will buy and resell your vehicle for you. If you decide to go ahead and sell on your own, beware of scams and people who may try to take advantage of you.
If you decide to sell yourself, one of the best ways to communicate with potential buyers is through local classifieds sites or different online services. Here you can post photos and a description of your car. You can also buy ad space on sites, such as AutoTrader.com or Facebook (locally), to help sell your car.
How to write a good ad
When writing an ad to sell your car, you must include all the pertinent information about your vehicle: make, model, year, condition, mileage, price and photos. You should also make it stand out among multiple similar ads. Be sure to include the color and equipment, if it has additional features – such as seat warmers or sunroof – and if it is low on mileage, owned only by one owner, or saves you gas.
What buyers want to know
Buying a used car , whether through a dealer or a private seller , is an investment for anyone. Before making a purchase, they want to know as much as possible about the vehicle and the seller. Here are some ways you can help them:
Vehicle History : If your car is an older model or if you are not the original owner, consider getting a report from Carfax . It will provide information on the history of the car, any accidents suffered and its maintenance records.
Why you are selling : Buyers will be curious as to why you are selling the car. Think about how you are going to respond and prepare for their questions.
Respond quickly : When you receive a call, text message or email indicating that the buyer is ready to make a purchase, respond quickly with your acceptance or counter offer. If you are slow to respond, the buyer could perceive it as disinterest or that you don't want to sell.
How do I offer a test drive to prospective buyers?
Once you've found a potential buyer, you should schedule a test drive. Let the buyer familiarize himself with the car. Follow these tips below to create a safe test drive experience.
Screen buyers : Research potential buyers' backgrounds before scheduling a test drive. Talk to the person on the phone and ask questions that will allow you to examine the buyer, such as whether or not they have financing. You also answer their questions to determine if they are serious buyers.
Safety in terms of being visible and accompanied : Meet with the potential buyer in an inhabited area. Never go to a test drive alone. Ask a friend to join you. Schedule the test drive to take place during the day. 

I want to sell my car quick

Credentials : Check the buyer's driver's license and proof of insurance before he gets behind the wheel.
The test drive is not the time to accept payment. However, it is appropriate to start negotiating the price after the negotiation is over.
How do I make a secure transaction ?
Title transfer also requires a secure environment. When you're ready to make the sale official, follow these tips:
Receive payment within a bank : The safest place to exchange and receive payment is the buyer's bank. Don't commit to taking the prospective buyer somewhere else, especially to collect payment.
Exchange title for payment : Do not sign or give the vehicle title to the buyer until you have received the agreed payment in full. If the payment is not made in cash, make sure the check or money order is legitimate or wait for the Venmo payment to post to your checking account. If the buyer pays you with a check, visit FakeChecks.org, the Federal Deposit Insurance Corporation (FDIC) website, to verify that it is not fraudulent.
What if I have car too old considered a Junk Car?
If you feel your car is not worth it to go thru the trouble of fixing it and investing time to sell it because is a junk car give us a call 321.209.7777 or visit our site and fill out contact form to schedule a pickup here.