As the summer travel season approaches, more and more people are hitting the road. But with gas prices at an all-time high, people in the area wonder if trips are worth the cost.
Gas prices in Florida are the highest they have been since 2014. This is because countries that control most of the world's fossil fuel supplies are keeping production low, even though their economies are getting better.
Overnight, the price of gas in Florida went up $4.89. These are from a Shell gas station in West Palm Beach, Florida, on June 24th, 2022
Drivers are still having a hard time at the pump, and it just got a little worse.
Experts say that gas prices could stay the same for the next six months to a year, or they could go up. AAA said that there has been a lot of pressure on crude oil prices to go up because the demand for fuel has been higher than the supply. Even though the COVID-19 pandemic was bad for the world economy, many world leaders have been reaching out to OPEC to ask for production levels to return to what they were before the pandemic.
How much would it cost to fill up for someone with a 14-gallon tank? Since gas prices went up by 13 cents in some places since last week, you would pay $1.82 more than you did then. It all comes down to supply and demand. The amount of fuel made around the world is going down, but people want to fill up their cars more than ever.
Even airlines are feeling the effects of these rates, and they say they hope fuel costs will go down. RJ LaSasso, the founder and CEO of Jet the World, talked about how gas prices are going up. LaSasso said, "It takes all the money out of the bottom." "We have to pass it on to the client or eat it if we want to keep the business, so it gets very, very hard to run a business."
Some people, like Alessandro Cattabriga, do not think that Florida's high gas prices are a big deal.
"Look, I am from Europe, and the prices here are not even close to what they are there, so this is still cheaper for me than anywhere else," Cattabriga said.
AAA said that the average price of a gallon of regular gas in the U.S. hit a new high of $4.92 on Friday after going up by 5 cents overnight.
In the past two weeks, the average price of a gallon of gas has gone up by 25 cents across the country.  Americans are not happy about the new gas prices.
AAA says that this is because the price of oil is going up and there is more demand for gas.
However, the biggest contributing factor is increasing oil prices as a result of Russia's invasion of Ukraine.
"Russia's invasion and the responding escalating series of financial sanctions by the U.S. and its allies have given the global oil market the jitters," said Andrew Gross, a spokesperson for AAA.
As the conflict continues, analysts believe oil markets will continue raising the price of oil to reflect the increased risk of disruption of global supplies.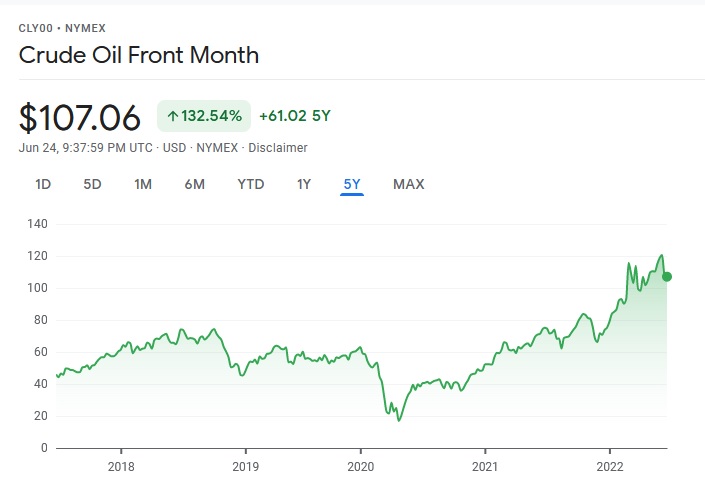 What's causing the high prices?
The main reason for the rise is the high price of crude oil, which was around $100 a barrel on Tuesday after jumping to $110 a barrel last week.
If you look at the price of CRUDE OIL in any financial graph you can see it used to be US$67 a barrel as of this writing is around US$107 Dollars.
Last week, the leader of the 27-country European Union called on the group to stop importing crude oil within six months and refined products by the end of the year. This caused oil prices to go up.  Gas prices are high, which is likely to make inflation worse.
The Organization of Petroleum Exporting Countries (OPEC) and its allies, known as OPEC+, made a deal on Thursday to pump an extra 648,000 barrels of crude oil into the global market each day in July and August, which is 200,000 barrels more than they had planned.
The International Energy Agency says that Russia supplied 14 percent of the world's oil last year, and the sanctions that the West has put on Russia are already leaving a big hole in the market. In April, Russia stopped making nearly 1 million barrels of oil per day. The IEA says that this number could rise to about 3 million barrels per day in the second half of 2022.
After the European Union said it would stop buying 90% of Russian oil by the end of the year, prices on the oil futures market, which is similar to the stock market in that people bet on the price of oil, went up by a lot last week. Shanghai also reopened after being closed because of COVID-19. This increased the need for gas at a time when oil production is still lower than it was before the pandemic. Jenkins said that oil companies can not speed up production fast enough to keep up with the rise in travel.
Dr. Smythe from Florida Gulf Coast University's Department of Economics and Finance says that these requests have been ignored.
"OPEC's plan could be, 'We are limiting oil supply to make up for some of what we lost during the pandemic,'" Smythe said. "This could be from March or April 2020 to the summer of this year." "That could also be happening, and production may or may not go up until they are happy with their profitability or whatever else they are using to make decisions."
On May 10, 2022, a gallon of gas cost $4.99 at a BP gas station on Okeechobee Boulevard near Interstate 95.
"The cost of oil makes up more than half of the price at the pump, so when oil prices go up, so does the price of gas," said AAA spokesman Andrew Gross.
Gas prices in Florida are a little lower than the national average, but they have gone up in the last few weeks after a small drop in April.
The oil exporters' refusal to help countries that rely on fossil fuels means that everyday drivers, especially Floridians, continue to pay the price.
Adam, a driver for the U.S. Postal Service, said,
"Working people are suffering because they have less money to take care of their families."
"Wow, this is going to take a long time!" Dee, who lives in Lee County, said.
"How long do you think we will be able to afford this? How are people with kids going to be able to pay for this? Definitely go on welfare."
AAA says that the average price of a gallon of gas in Florida is $4.282, with Palm Beach County having the highest price at $4.446.
Filling up on the Treasure Coast is a little cheaper than in South Florida. In Martin County, drivers pay $4.344, in St. Lucie County, $4.30, and in Indian River County, $4.319.
Prices for gas at a Mobil station near West Palm Beach, Florida, on May 10, 2022
On May 10, 2022, a gallon of gas at a Mobil station on Okeechobee Boulevard and Manor Avenue near West Palm Beach cost $4.19.
Before gas prices went up, Shadae Lewis, a driver, said it cost her about $50 to fill up her tank.
But on Tuesday, when the price was $4.99 a gallon, she had to pay a huge $85.
"It seems like a lot, but you will need gas… you have places to go, so it is hard to argue with you "Lewis said.
Early in March, gas prices in Florida hit $4.21 per gallon, which was a previous record.
These numbers are a big jump from this time last year, when the average price to fill up in Florida was only $2.876.
Shadae Lewis is a driver in Palm Beach County.
Shadae Lewis talks about how the price of gas is going up and how it is hurting her finances.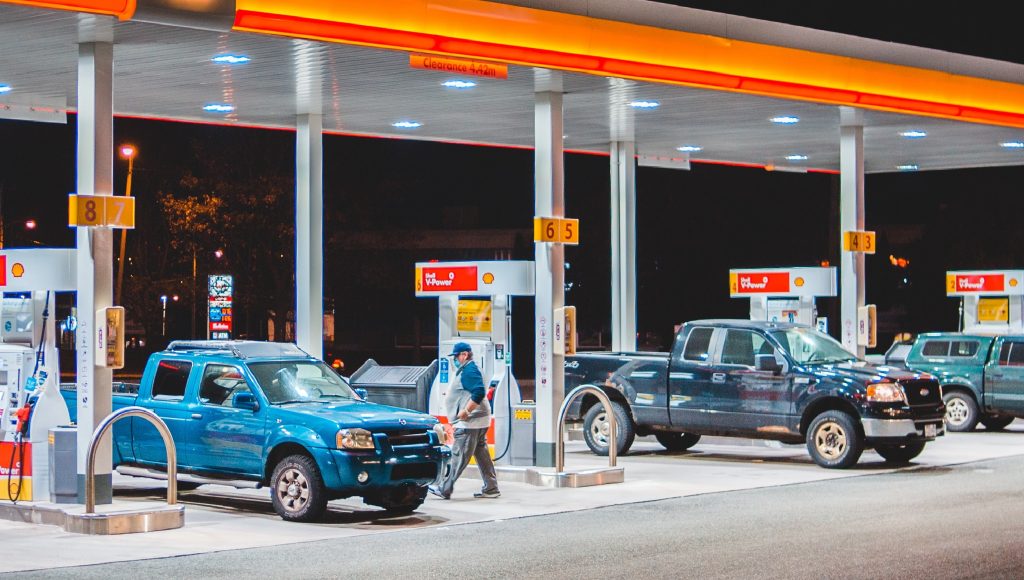 When will gas prices go down in florida
AAA said that gas prices could keep going up because there is not enough oil in the world and the market is still very unstable.
Mark Jenkins, a spokesman for AAA, said, "We are seeing a steady drop in gasoline supplies in the U.S., which is making gas prices go up in the end." "So, you have less supply at a time when demand is really going up because summer vacations are coming up soon."
AAA released a report on Tuesday saying that Sunshine State residents are more confident about traveling now than at any other time since the pandemic started.
The study found that 51 percent of Floridians still plan to travel this summer, even though gas prices are high. These people will find other ways to pay for their trips.
Jenkins said, "They might take shorter trips, stay closer to home, take fewer trips, or just change their budget."
But that will not be the case for people like Alfonso Pagan who already live there. He said that this summer, his vacation money will pay for gas and rent.
President Joe Biden said that steps are being taken to make things easier for American families.
"We saw in March that price increases at the pump were responsible for 60% of inflation that month," said Vice President Joe Biden. "This summer, my government will allow the sale of gasoline made with biofuels grown in the country. This will help keep prices down even more. This was not allowed before, and I am working with Congress to pass investments that will help build a clean energy future and make us less dependent on foreign oil and dangerous dictators like Putin.
Florida Gas Prices
If you are reading this article from the sunny state of Florida and you want to get the cheapest price we recommend to search for your nearest CIRCLE K
and if you are on the highway anywhere in Florida or any other state search for your nearest LOVES TRAVEL STOP
If you have Kroger Stores near you you can search for KROGER FUEL CENTER Near you
When will gas prices drop
Many people are hoping that the plan made by the Biden administration will help bring down gas prices.
AAA says to watch your speed, stay away from rush hour, and use cruise control to get the most out of your gas.
Tourism experts say they don't think the fuel problems will hurt tourism in Florida because people have been stuck in their homes for so long that the emotional comfort of being able to get up, fill up, and leave whenever they want will win out over the desire to stay put and save gas.
A recent survey by AAA found that once the price hit $5, 80% of drivers would change their habits to save money. Most of the people who answered said they would either drive less or go shorter distances. Some people would mix trips.
Stephanie Rank, a spokesperson for the Pinellas Suncoast Transit Authority, said that higher gas prices do make more people use public transportation. From April to May, fixed-route ridership went up by 3.7%. That does mean that the agency has to pay more for fuel, but for now, riders are not paying for that.
"If you take the bus or train instead of driving your own car, you can save hundreds of dollars quickly," said Rank. "A monthly pass for our Flamingo Fares can cost $70, while some people have to spend $70 every week to fill up their gas tank."